The Godcraft Launcher is a unique launcher that downloads and install all the mods required for the various servers.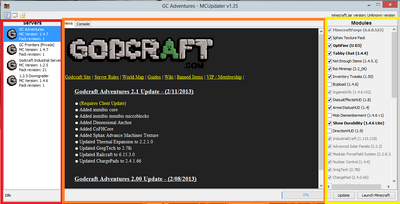 The Launcher has 3 distinct areas. The version selector on the far left, The news and console in the centre and the mod list on the far right. 
The Launcher makes a backup copy of the vanilla client. Then installs the requested mods. 
Launcher issues. 
Edit
There are various issues being reported with the launcher. This is to do with a back-up copy of the vanilla minecraft not being found.
Before you start it is suggested that you re-install minecraft with a vanilla version of Minecraft. Then make sure your Jave is updated to Java 7.
Now you have vanilla and Java attempt to install the client you want, it should work perfectly.
If you are still having issues then open your .minecraft folder and serach for a folder called mcu This is where the updater stores the backup of your vanilla client. Open this up and paste a vanila copy of minecraft in named
mc-1.4.7


If this still doesnt fix the problem then please leave a video reply on the forums.